Resume tactics from the grocery checkout lane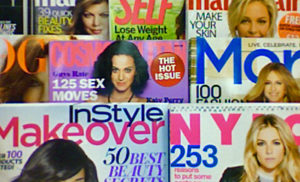 Next time you're at the grocery store checkout lane, take a look at the magazines and see what they do to get you to read them. There's a valuable lesson there for your resume.
There's always a blurb on the front for an article inside that offers a specific number of items inside. They're of a form like:
17 hottest celebrity couples
23 ways to keep your man happy
37 quick and easy meals for summer
684 new looks for under $100
The magazines' editors know that numbers attract attention. If you're like me, those numbers may be the first thing you notice after the cover photo. The numbers also promise a level of service. It's not just "an article about celebrity couples," but a promise of seventeen of them.
You should use this approach on your resume as well.
First, we know that numbers attract attention. When scanning your resume, the reader's eye will be drawn to the numbers naturally.
Moreover, numbers make your story more interesting and give the reader a sense of the size of your accomplishments, or the troubles you've solved in the past.
Consider the difference between these two bullets:
Ran the help desk. Answered trouble tickets, responded to phone calls and tracked spare computer parts.
Ran the help desk for 200-seat office. Staff of 3 answered average of 50 phone calls and 27 trouble tickets per day. Maintained 200-unit inventory of spare computer parts worth $10,000.
These two bullets describe exactly the same responsibilities, but the addition of specific numbers draw the attention of the reader, and add the details that give a much fuller picture of your responsibilities.
Without the numbers, the reader might also logically assume that the reality is more like this:
Ran the "help desk" in a four-person real estate office. Answered questions a few times a week about Excel. Kept a spare PC in a closet in case something tanked.
Remember, your awesomeness is not self-evident, and part of your job in telling the story of your awesomeness is giving the numbers to support it.
For more on the power of numbers, see chapter 3, "Résumé Content: Getting The Words Down" in Land The Tech Job You Love.