Six tips for preparing to attend a technical conference
I've been going to technical conferences since YAPC::NA 2002, and next week I'll be at OSCON 2011 talking about community and Github. Preparation is important to getting the most out of the conference with the least amount of hassle. Here are some tips I've learned along the way.
Bring power tools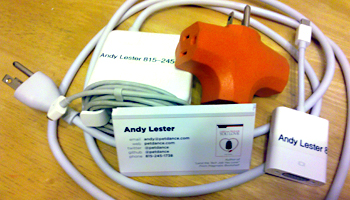 Not electric drills and saws, but tools for getting power. Conference organizers may not have planned adequately for the influx of laptops, and electric outlets can be a rare commodity. If you're flying to a conference, it can be especially difficult to find a plug at the airports. O'Hare in Chicago is especially bad.
If you can fit a power strip into your laptop bag, good. If you want to go cheap, go buy a cube tap at your hardware store for two dollars.
Make sure you bring your cell phone charger and a USB cable to hook up your phone to your laptop, too.
Label your stuff
If your forget your laptop power cord in a room, whoever finds it isn't going to know whose it is. At the Apple-heavy conferences I usually attend, everyone's cords all look the same anyway. Label it with your name and cell phone number. Same goes for anything else that you might use and lose, such as display adapter dongles. It's frustratingly expensive to realize you lost a $25 piece of plastic.
Plan what you want to see
If you leave conference talk planning until the day of the talk, you're more likely to miss seeing the really good stuff. Amidst all the talk in the hallways and hanging out in the exhibit halls and hackathons long lunches with new friends, it's easy to forget about that one talk you really wanted to see until you look back on the schedule and realize it ended half an hour ago.
The OSCON scheduler makes it easy to mark the talks you want to see, but for the most important ones, I suggest adding them to your calendar on your phone and setting an alarm.
Bring business cards
You're going to meet people, so give them something to remember you by. I'm talking about making your own business card, not your company business card. Your card need not be fancy, but if you can get a graphic designer friend to put together something nice in exchange for lunch and/or a few beers, so much the better. At the very least, you'll want to include your name, website, email address and cell phone number. I also put my Twitter ID and Github ID on mine.
My box of 500 business cards was only about $20 delivered to my door. It's fantastic bang for your buck for keeping in contact with the people you meet.
Get a laptop bag with a shoulder strap
While you're at the conference, you're going to take your laptop with you at all times. AT ALL TIMES. Every conference, someone gets a laptop stolen. You're not going to let it be you.
Do not trust the guy next to you to "watch this while I run to the bathroom." When you go to the bathroom, or grab a drink, or whatever it is that you do that isn't seated at a conference table with your laptop in front of you, you're going to have your laptop zipped up in your bag, with the strap over your shoulder. This goes double for airports.
Bathrooms are an ideal place for a thief to take your laptop. I assure you that standing at a urinal trying to take care of business with a laptop tucked under your arm is not fun. If you're in a stall, be aware of how easy it is for a thief to grab a bag from under the stall, or from reaching over a door and taking the laptop from the hook.
A laptop bag with a shoulder strap is the only way to go.
Clean your house
Wash the dishes. Empty the garbage. Take stuff out of the fridge if it's going to go bad in your absence. A lot of nastiness can happen in five days.
Other tips
I asked on Twitter for suggestions for conference prep. Some replies:
Give a practice session of any talk that I haven't given before. -- @mjdominus
Make a checklist of all cables I need. Then research where to buy them in Portland just in case. -- @rjbs
Get a lot of sleep the week before. -- @adamturoff
What suggestions do you have? Please leave them in the comments below.